Director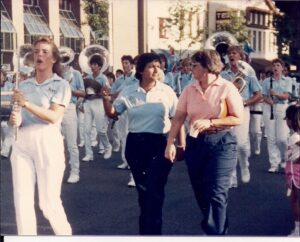 Delia G Quintanilla is a school reform advocate committed to providing quality education, promoting high-performing individuals, and empowering workers. She brings more than 20 years experience as a music director in public schools in Texas (4A & 6A HS band director), Nebraska, and Massachusetts. She brings more than 30 years experience in researching, administering, and evaluating innovative programs leading to a high-performing work environment. She brings more than 20 years engaging with,  designing in, and teaching through innovative technologies.
Administrative Experiences:
Recently, June 2020, Dr. Quintanilla  launched a pre collegiate and post collegiate instruction program for world-wide dissemination through TEACH QUEST Global.
From 2004-2020, she guided the TEACH Program under the auspices of Texas Education Agency which prepared teachers for the Texas, United States, and international classrooms. Designed, built, coded, and continues to support a Learning Management System (LMS), tqportal.com, delivering over 130 courses plus TExES tutoring sessions to teachers preparing to acquire a Texas teaching certificate.
Before 2004, she served as chair of the Professional Studies Division at Huston-Tillotson College, guiding professors in the programs of Business Administration, Kinesiology, and Teacher Education. In addition to her administrative duties at Huston-Tillotson College, as a Walden University online certified instructor, Dr. Quintanilla developed and taught three online courses and broadcasted one course via videoconferencing to Paul Quinn College and Jarvis Christian College.
Advocating for the need to reform teaching and learning, Dr. Quintanilla served as an administrator with two entities. In 1997, she served as Executive Director of the Houston Annenberg Challenge. Launching the Challenge's strategic plan focused on school reform, Dr. Quintanilla initiated two programs, the intellectualism of the teacher and the synchronization of the teacher preparation entities in the Houston area. In 1993, as Director of the Commission on Standards for the Teaching Profession at Texas Education Agency, Dr. Quintanilla served as an advocate for the needs of entities preparing teachers for the classroom.
Developer Experiences: Recently, Dr. Quintanilla launched Arobba Productions under eQualityTeach which will produce video games  for teachers. Dr. Quintanilla proposes that teacher video games will reduce the number of years to build teacher capacity.
In the mid-nineties, Dr. Quintanilla served entities and individuals in reengineering teaching and learning for tomorrow's classroom through her educational consulting firm, QUEST.. A Consulting Enterprise. Organized in 1995, QUEST…Enterprise focused on assisting Historically Black Colleges and Universities in reengineering the way in which minority teacher candidates were prepared for Texas classrooms.
Appointments: In February 2010, Dr. Quintanilla was appointed to the University of Mary Hardin-Baylor Board of Trustees.
Education:
Ed.D., Boston University, Educational Policy and Leadership
M.Ed., Sam Houston State University, Music Education
B.M.E., Mary Hardin-Baylor College, Music Education
6.16.2021